The Kiwi Mk2 - E T Westbury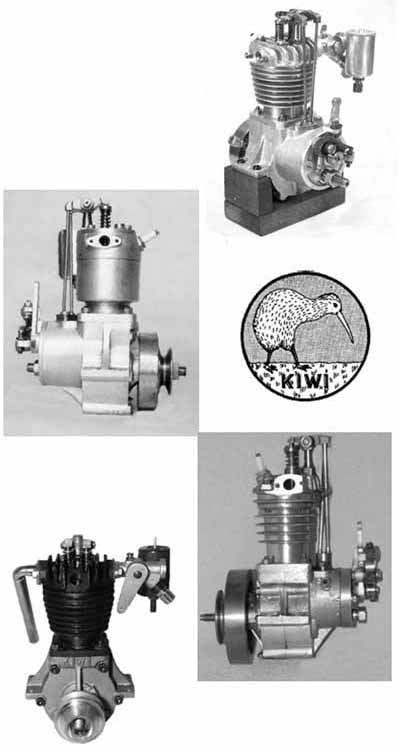 The Kiwi Mk2 is a 15cc, OHV 4-stroke single - with a big reputation. Originally designed by Westbury in 1935 it was a tremendously popular project due in no small way to the complete absence of commercially available model engines during the war years. When updating the design in 1960, Westbury commented that "the Kiwi has always been the favourite of the beginner, who could be fairly sure of making it and getting it to run successfully". Westbury seldom quoted performance figures for his designs, arguing that build quality varied so widely that a hard number would be misleading. However... the Mk1 Kiwi returned 5/8bhp @ 8,500 rpm on Professor D H Chaddick's custom built dynamometer; enough to power a 24" hydroplane at 40mph! With its ball race main bearings, stiffened crankcase and cooler running cylinder, your Mk2 Kiwi could well hit 50bhp per litre!
The engine has a conventional British motorcycle appearance; perhaps a BSA C15 or a Norton ES2. With a bore x stroke of Ø1" x 1 1/8", the Kiwi stands 6" tall from sump to rockers. The Kiwi's simplified camshaft operates open push rods, rockers and vertical overhead valves so aspiration of the running engine can be readily observed; a fascinating feature! The carburettor for the Kiwi is simple yet well conceived; providing the mixture compensation that is essential to flexible running. A cast float chamber accepts a balsa wood (or cork) float for further refinement. Lubrication is via a metered drip feed system which is remotely mounted from the engine.
The castings for this project are well proven and the engine can be ordered with either an Air Cooled or Water Cooled cylinder jacket and head. The Kiwi has been successfully built and run by thousands of IC novices over the past 70 years and we trust that, having built one, you too will appreciate the appeal of this timeless classic.
The Kiwi Mk2 in Action