The Mastiff - L C Mason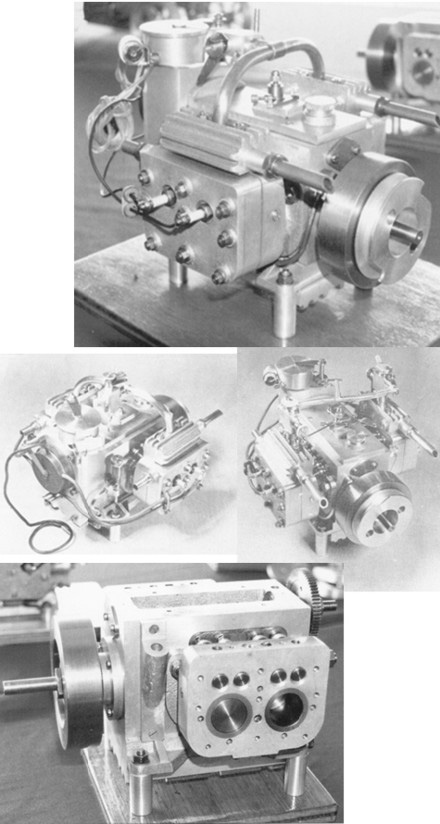 Much like Westbury, Leonard Charlish Mason (always "Len") was a polymath with a large variety of interests and disciplines. Following his ever popular design for Minnie, the steam traction engine, he turned his hand to petrol engines. The Mastiff is a genuine triumph of design. Mason has bought together a number of creative, trend-setting features within a compact engine which is in fact not difficult to build. Almost every aspect of the engine has been considered from first principles rather than by following convention.
Known as a great starter and a silky smooth runner, the Mastiff is a compact unit with a particularly low centre of gravity. The horizontally opposed layout provides a low head height, great balance and a stiff crankcase and crankshaft. With a Bore x Stroke of Ø3/4" x 7/8" the 4 cylinder Mastiff has a swept capacity of 25cc. The side valve arrangement helps to reduce complexity whilst providing ample breathing through Ø5/16" valves. Mason's camshaft arrangement has considerable merit for the constructor. Loose silver steel inlet and exhaust cams are hardened separately then fixed with Loctite to a mild steel shaft using an assembly jig to ensure perfect orientation.
A vertical shaft for auxiliaries (driven by 2:1 skew gears) is used to power the distributor and oil pump. A pressure relief valve and an external oil pressure indicator are incorporated to ensure good lubrication from the shallow sump. The engine can be built with either a single horizontal or twin downdraught carburettors and the manifold arrangement is neatly achieved without tortuous routing. As the engine was conceived for marine use, water cooling is by thermo-syphon.
The Mastiff stands 6 ½" tall, 8 ¾" long and 7 ½" wide over its ¼" x 32tpi plugs. Interestingly, the hole spacing for the mounting bearers is an exact match for the Myford cross-slide, making running-in a simple affair.
Following a good deal of investigation, Hemingway Kits tracked down and acquired the original pattern set for this British classic and for the first time since the late 1980's it is available for engine builders around the world.
The Mastiff in Action