Delivery Information
PRODUCTION AT HEMINGWAY KITS
In general, we "Make to Order" rather than "Make to Stock". Triggered by your order, oven-ready kits are cut and packed within a day or two.
Occasionally, you'll catch us waiting for certain items to arrive - typically castings... At our option, we may decide to forward your incomplete kit together with a note declaring the shortage(s). This allows you to make a start. We will then forward, at our expense, the missing items once they are available. If the delay is likely to be substantial, or if we are missing an item without which you can't start your project, we'll get in touch and discuss it with you.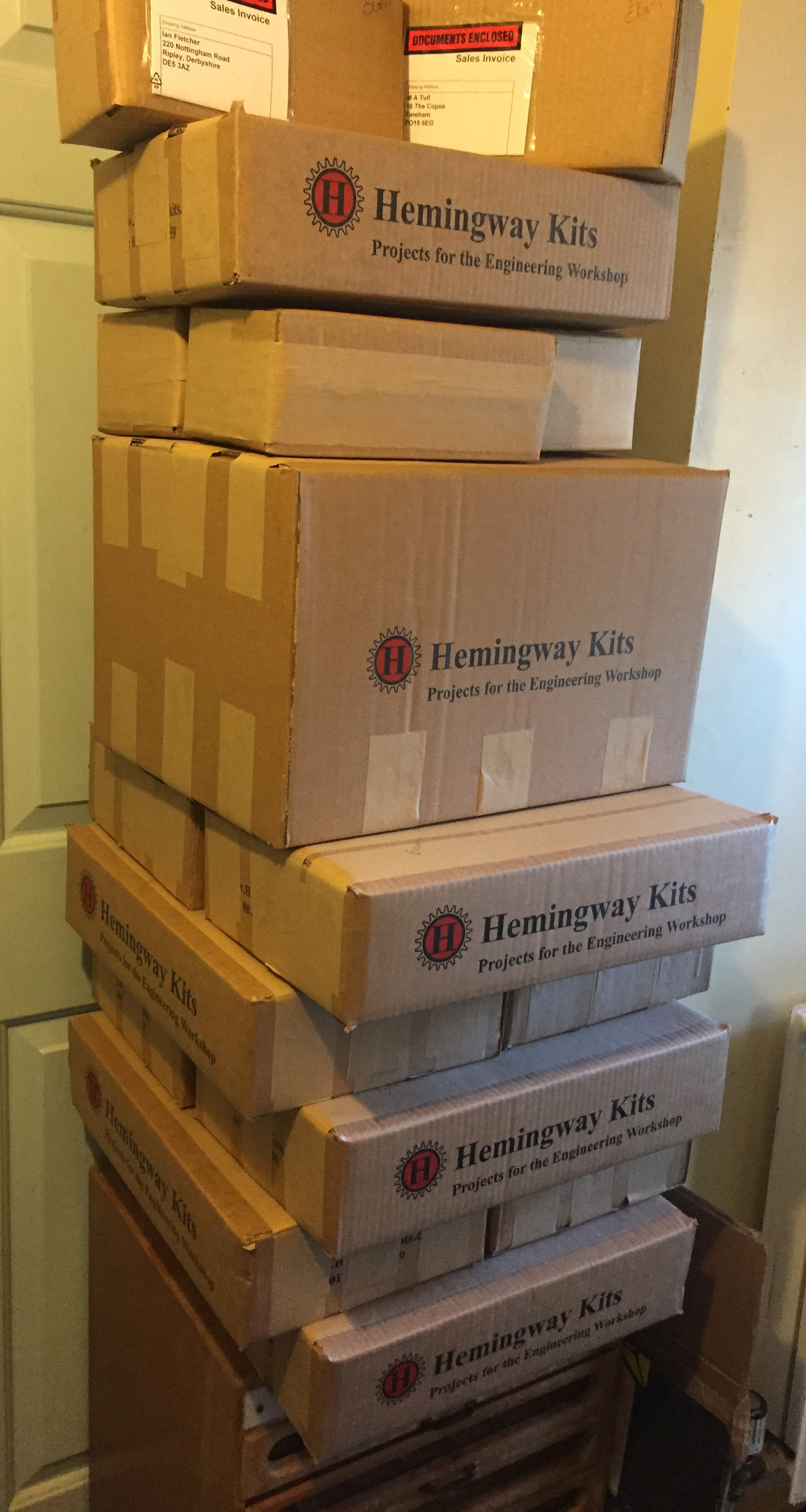 DELIVERY COSTS
Our ambition is simply to get your order from our bench to yours in the quickest, safest way. We don't aim to profit from shipping.
UK Shipping
We have negotiated a flat delivery rate for all UK orders above 2kg - do take advantage of this! The carrier will send an email with tracking details once your parcel starts its journey. Your order will then arrive in 1 - 2 days. Below 2kg, one of us will have to wander down to the Post Office.
There are of course some dark parts of the British Empire where carriers fear to tread: the wild and woolly highlands and islands, beautiful downtown Belfast and the gin palaces of Jersey, Guernsey, Man & Wight for example. If you are ordering from one of these exotic haunts, please anticipate a higher cost for parcels over 2kg.
Export Shipping
For parcels weighing below 2kg (4.4lbs), we will send your delivery by the Royal Mail's Small Parcel service. Above 2.0kg we use several larger groups including Parcelforce, Fedex, UPS and DPD and we have included these rates in our database. Each of our carriers will send a note, including tracking details, to your email address once they have collected from us. Typical delivery times are just 7 days to either the Antipodes, the Colonies or the Continent.
Shipping costs are set in weight bands and the total weight of your order is shown at Checkout. As you can imagine....a parcel weighing say 2.2kg or 10.1kg could be frustratingly expensive. One trick here is to order more (
) or less (
) items to improve the shipping cost per kg?
We must always reserve the right to confirm any price adjustments BEFORE we organise shipping.
"STUFF" HAPPENS...
It's not unheard of for parcels to go astray or get damaged in transit. Fortunately, it only happens 2 or 3 times each year. If your order is one of these lucky ones - please get in touch and we'll work with the carriers to find out what's happening. If the worst happens, we'll send everything again. At the end of the day, you won't lose-out.
COLLECTIONS
Whilst we don't have any form of shop or showroom, you're welcome to collect your order from us if you happen to be passing beautiful Bridgnorth - you may even get a cup of tea. Please give us a date and time so that we can have everything ready.
Also, we regularly send parcels out to customers who just happen to be in the UK on business. If you fill out your UK address in the delivery details, the system will charge UK delivery rates. If its a hotel, be sure to tell them at reception and if you're flying home, pay attention to the weight of your luggage!