What's in a Hemingway Kit
Each kit arrives as a machining project, requiring between 2 and say 400 hours of workshop time. Check the descriptions offered for each kit. In general, we aim to supply all of the raw materials you will need to complete a given project.
You simply add your time, experience and ingenuity!
Castings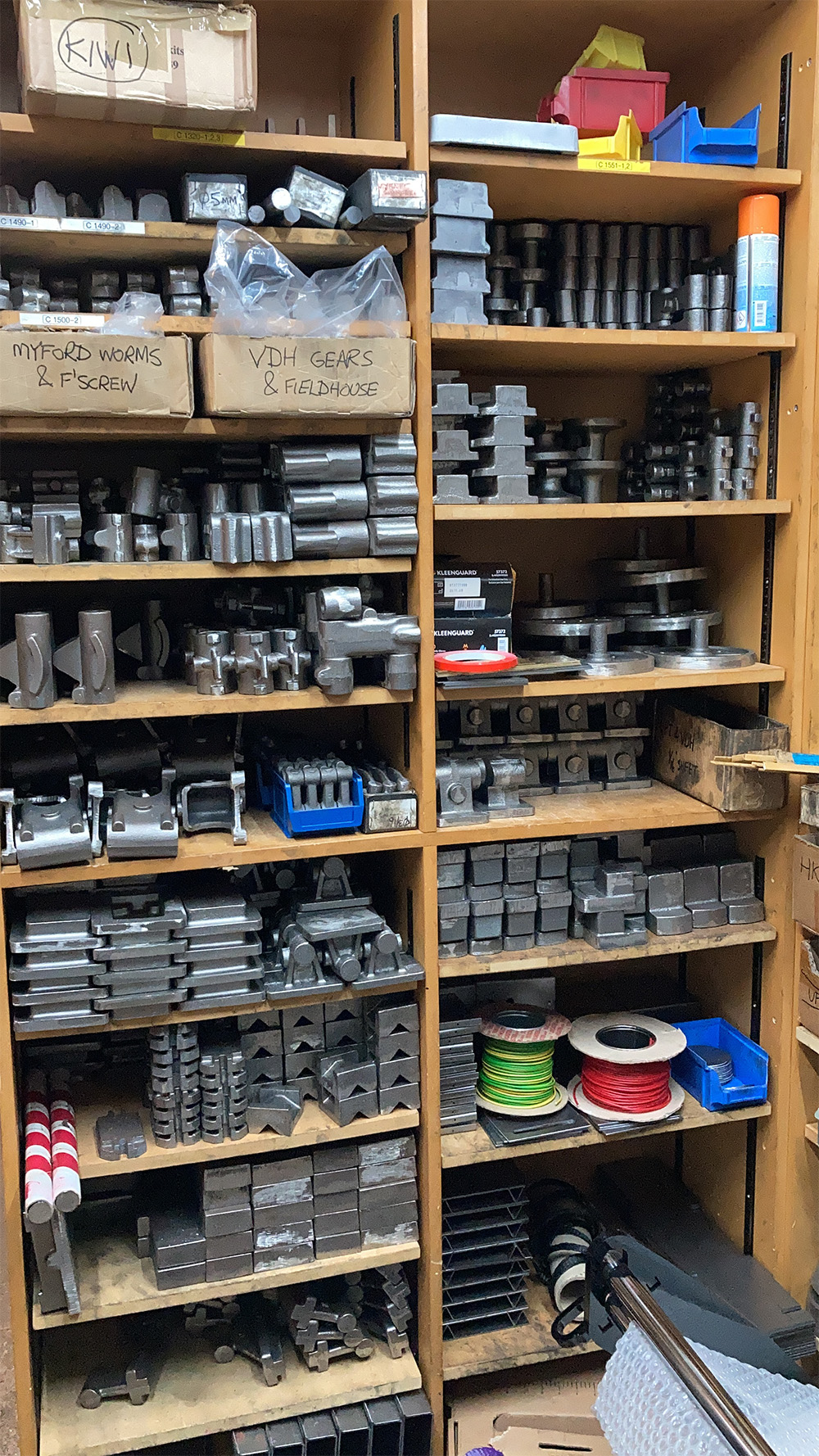 We now manage almost 400 patterns and core boxes. Many of them, such as for water-cooled engine blocks, are ingenious! Our ferrous and non-ferrous foundries have been trading in the UK for between 40 and 130 years. All molding, core placing, pouring and fettling is completed by hand and all castings are shot or bead blasted to improve their appearance. Defects can occur but are generally caught at the foundry or by Hemingway. Please check your castings closely before you invest in their machining. Do get in touch if you have any concerns. A level of surface defect is unavoidable but should not encroach on a major datum.
Bar Stock
Hemingway Kits holds around 4 tonnes of bar materials, chiefly in Imperial dimensions. We stock over 150 different sections of steel, iron, brass, bronze, aluminium and polymers. We always favour free cutting grades. Please, when your kit arrives, check through the drawings and plan your use of material. It is not only the profit motive that causes us to limit lengths, we are also conscious that it will be inefficient for customers machine or saw off large amounts of excess material to arrive at a finished dimension!
Fasteners
We hold over 200 different varieties of heads, threads and lengths. Our kits are supplied with Metric fasteners in the range M1.6 - M12, all of standard (some say "coarse") pitch. Where a thread must be single-point cut on your lathe, the drawings offer both Imperial and Metric alternatives to suit your lathe's leadscrew and where a kit must interface with a female Imperial thread on your equipment, we will of course supply the correct Imperial fixings.
Gears
For those kits that require gears, they are supplied in blank form. That is to say the teeth themselves are fully finished, leaving you to complete a few features such as bores and support diameters. The worm and worm wheel pairs required to complete the dividing tools are intended by the designers to be generated as helicals to a pressure angle of 14½º. They require dedicated assets and, with low volume runs, may seem unusually expensive. On the positive side however, the quality of our UK sources are indeed first class.
CNC Sheet Materials
The Worden Mk 3 Tool and Cutter Grinder is a truly great product, made economically possible through the flexibility of CNC processing. The gauge of the pressings is around 1/8", affording excellent rigidity in action. Having large dedicated pressings on your bench may well be a novelty. Please remember that many of industry's worst hand injuries come from handling unprepared sheet materials! Wear gloves and file off sharp edges as a very first step.
Other Stock Items
Hemingway Kits arrive complete! To back this claim we hold a huge variety of often "difficult to find" items. Along with motors, bearings, bushes, springs and arbors, we hold many more exotic items such as gun-sight graticules, blended woolen felt, music wire and 5-core electrical cable. Wherever practical, we source directly from well-established UK manufacturers.
Drawings & Construction Notes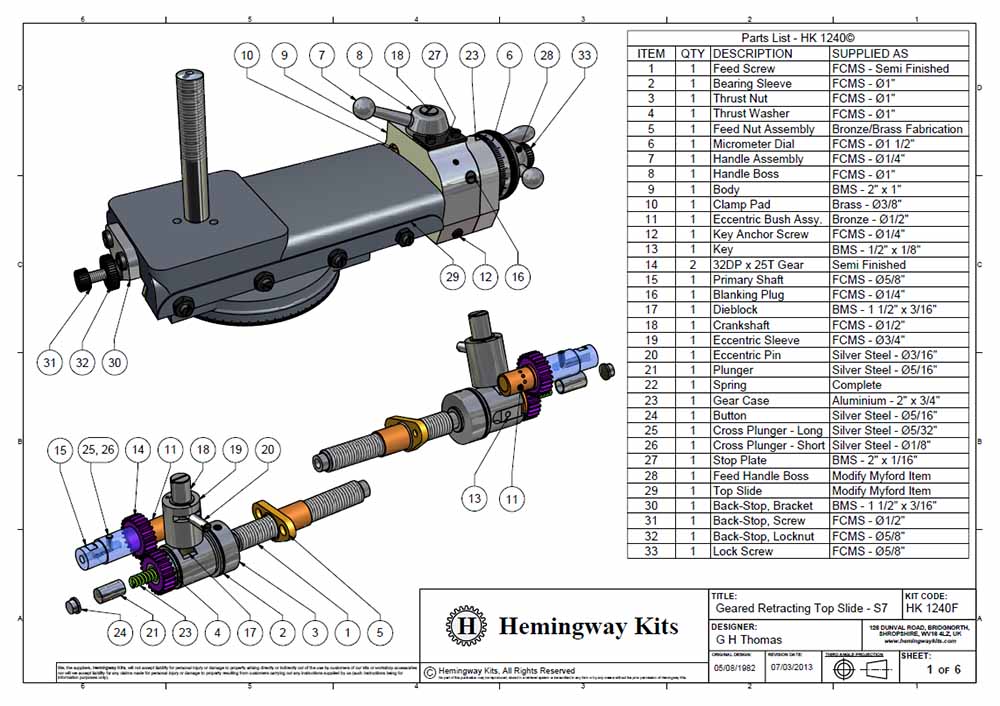 This is an area where we feel we add significant value for the small workshop owner. In all humility… we think we are the best in the business by a long-chalk!
With our investments in top-end CAD systems, digital photography and colour laser printing, we have raised our designers' original works to the latest industry levels. Drawings are generated from digital solid models, which are used to check all assemblies for fit and function. Isometric, sectional and detail views are included, together with a full bill of materials and machining sequences for any complex operations. Our construction notes, generally composed by the designer, allow you to understand the importance of each set-up and how it fits within the overall plan. Typically, the notes include photographs, which are invaluable for describing an operation.
Please note however that for the Universal Pillar Tool (UPT) and Versatile Dividing Head (VDH), George Thomas' book, Workshop Techniques, provides all of the necessary construction notes. Whilst Hemingway drawings are included with the VDH projects, you will need to use the book for the UPT.
What Equipment Do I Need?
Our customers are armed with anything from a leather-belted lathe from the 1920's to a full CNC arsenal. We have attempted below to show the base level of equipment required to complete our kits. Without being told, you'll know already that quality counts in the workshop and, in general, "He with the most toys, wins!".
Major Assets
Typically of at least 3" centre-height (Ø6" Swing) and 13" between centres. Screw-cutting facilities are essential for many of the kits. Metric or Imperial feedscrews - it's really up to you and what you feel comfortable with. With a calculator to hand or a DRO fitted, you'll find no real problem translating between the two.
Typically of at least ؽ" drill capacity with a motor of at least ½ hp. If you own a mill with quill feed, a dedicated pillar drill may not be worth the additional floor space?
A good Vertical Slide, bolted to your lathe's cross-slide, will suffice for all but a few of the kits. However, if you do have a dedicated Milling Machine, your progress will be at a much faster pace and a few of the projects will require this. We'd suggest a Vertical Mill of at least 1 hp, 14" of X-travel and a speed range of 100 - 2,000 rpm.
Other Workshop Basics
Leaving aside the obvious paraphernalia, you'll need:
A good solid Bench Vice of say 4" capacity or better.
Micrometers and a 6" Vernier Calliper, the best you can afford. You should be able to determine down to 0.00025" (2½ tenths) below an inch and 0.001" above an inch.
Dial Test & Dial Gauge Indicators. Try for a DGI of at least ¼" travel and resolution of 0.0005". Go to town on your DTI; ours has a total travel of 0.009" and resolves to 0.00005" (½ of a tenth). You'll be glad of a "famous brand" and there's no real need to buy a new one.
Taps, Dies, Drills. You'll need Standard ("Coarse") Metric taps from M1.6 to M12, along with some special sizes that you'll find listed against relevant kits. You'll need dies for the larger sizes only (M5 - M10).
Reamers. If you can find a set of Imperial reamers from Ø1/8" to Ø5/8" by 16ths, you'll avoid a number of fine-boring exercises.
Blowtorch. A few kits require silver-soldering of components and many include silver steels (drill-rod) that need hardening. Buy propane, NOT butane.
Surface Plate. Perhaps not essential for every kit but, sooner or later you'll need a standard surface. If you have a flat bed lathe, you may get away with using it as a surface plate. Otherwise, a piece of plate glass or a second hand or imported table are equally good.
Where Do I Start?
For many, the very best place to start will be to get hold of G H Thomas' two books. We'd recommend The Model Engineers Workshop Manual as your first, then Workshop Techniques when you are ready to build the Universal Pillar Tool and Versatile Dividing Head. Within these books are the plans and instructions for the majority of Mr Thomas' designs, supported by photos and unassuming wisdom.

Now to Chose a Kit!
From our experience, you will be driven by either a need related to a larger projects or an inexplicable urge to experiment and learn? If you've just started in the workshop, you may decide to invest in some simple tooling projects to improve both your abilities and equipment.
For those in the latter camp, and in no particular order, here is a list of the proficiencies required to complete every one of the kits that we offer:
Face plate set ups
Taper turning
Silver soldering
Turning between centres
Parting off
Screw cutting
Boring
Fly cutting
Deep hole drilling
Milling techniques
Tool grinding
Marking out
Taps & dies
Graduating
Scraping
Measurement
Form bending
Drawing practice
Lapping & Honing

Filing
Speeds & feeds
Finish turning
Knurling
Spherical turning
Dividing
Boring table set ups
Reaming
Cutting fluids
Angle plate set ups
Dressing & filling
Fixed steady support
Centre finding
Cross drilling
Hand turning
Punching & staking
Form cutter work
Shrink fitting
Heat treatment
Clearly, when you can tick off all of these, both you and your workshop will have reached world-class among a group renowned for their ingenuity and resourcefulness.

Customers have noticed an amount of circularity involved in building our workshop accessory kits. To complete a high quality Universal Pillar Tool for example, you'll need to be able to turn ball handles. To create high quality ball handles, you'll need a Spherical Turning Tool. To complete a high quality Spherical Turning Tool, it will be handy to be able to graduate, knurl and part off, which may steer you toward our Graduating Tool, Knurling Tool and Rear Tool Post kits!
Rather than presuming to set any form of agenda, we feel happy to leave you to decide on your next kit.