The Sealion - E T Westbury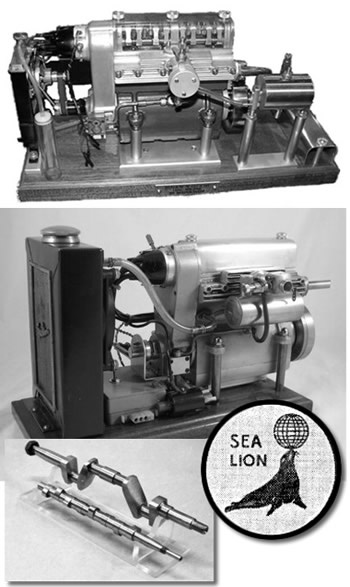 The Sealion engine was released in 1959, coinciding with the launch of BMC's Mini and the opening of the UK's first motorway, the M1. The Sealion sports a gear driven overhead cam; an expensive performance feature for 1959; limited to manufacturers such as Jaguar, Aston Martin and Mercedes Benz. Whilst adding to the complexity of the valve train, the Sealion's SOHC arrangement offers more efficient breathing with higher compression ratios. This is a high performance engine and to many it is also Westbury's most refined and ambitious project.
The Sealion has a bore x stroke of Ø7/8" x ¾" providing a swept displacement of 29.6cc (1.8 cu.in.). The flat faced cylinder head seats 8 vertical valves, operated by short rockers from an offset, 8-lobe camshaft. The camshaft is supported by 3 bearings within a separately mounted housing, the base of which closes off the water jacket. Westbury calls for a rocker cover formed from 1/16" sheet but many constructors substitute a Perspex/Plexiglas cover. The mechanism is simply too attractive to be hidden away!
Unlike the Seal and Seal Major engines, the Sealion's crankshaft runs in 3 main bearings; 2 outboard ball races and a central spilt-shell leaded bronze bush. Connecting rods are machined from solid Duralumin and it is suggested that the big end cap bolts are security-wired. The Sealion engine includes an oil and water pump; a total of 10 gears make up the drives to the camshaft and auxiliaries! A cast oil trough sits just out of reach of the crank, providing a pool for the big ends to dip into and a baffle to keep the sump level steady enough to prevent cavitation of the oil pump. The material kit includes a moulded cap for the distributor which is driven directly from the cam.
Whilst we cannot propose the Sealion as a first-project for IC constructors, we can absolutely vouch for the integrity and elegance of the design. Those craftsmen with a methodical and patient approach will thoroughly enjoy rising to the challenge.
The Sealion in Action