Compact Powered Hacksaw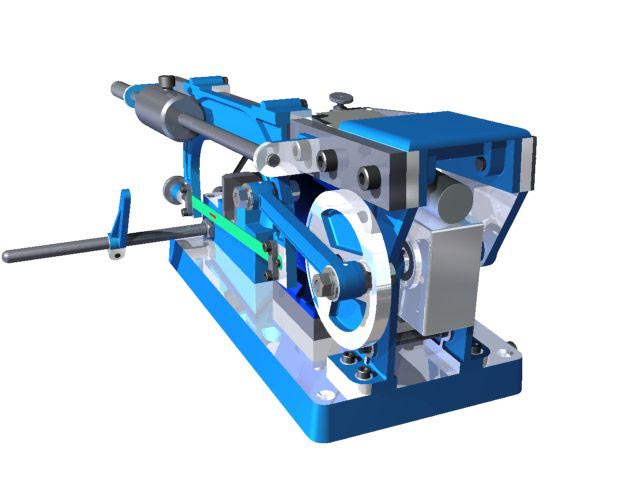 While the ordinary hacksaw is an indispensible hand tool for all metal workers, the manual labour involved in operating it is tedious when a great deal of cutting has to be done on large metal sections.
To earn its keep however, a powered hacksaw must be man-enough for the job but also small enough to avoid dominating the workshop. Westbury devoted a great deal of thought and experimentation to this design which is surely the world's most compact. The machine is just 7½" wide, 9¼" tall and sits on any bench deeper than 17". It's about the same size, and as portable as, a standard toolbox.
This great machine will quietly slice steel up to 2" deep whilst you get on with something more interesting. An adjustable weight and hydraulic damper regulate the cutting load and the machine knock's off once the job is done. The vice jaws swivel for mitres or for gripping tapered stock and a length stop is provided for accurate repeat cuts.
The machine cuts at 90 strokes per minute using standard 10" blades and the stroke is adjustable between 2" to 3½". Metal is cut on the backstroke and the connection of the frame to the driving crank is arranged to produce a downward thrust on this stroke and to relieve the load on the saw as it returns. The heart of the machine is a 15:1 worm/wheel gearbox which is supplied complete and ready to fit. The 90W x 240V motor supplied with the kit is suitable for both 50hz & 60hz supply and provides 20% more torque than Westbury envisaged.