Quorn Mk3 - Universal Tool & Cutter Grinder
The Sharpest Knife in the Drawer?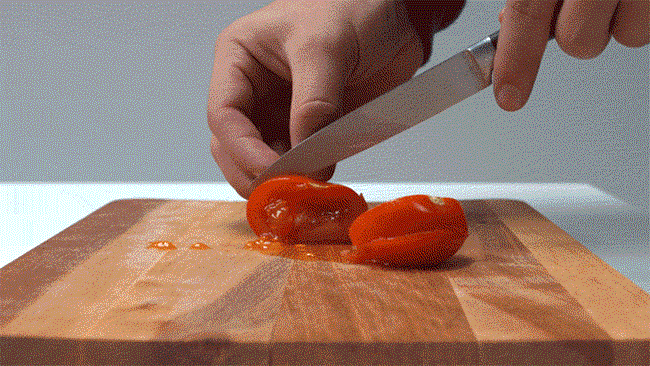 Preparing vegetables with a dull knife is laborious, dangerous and frankly, unsatisfying. Using a keenly ground blade makes all the difference. In just the same way, turning and milling with perfectly ground tools and cutters will add finesse to your work and a Michelin star to your workshop!
Quorn - The Functionality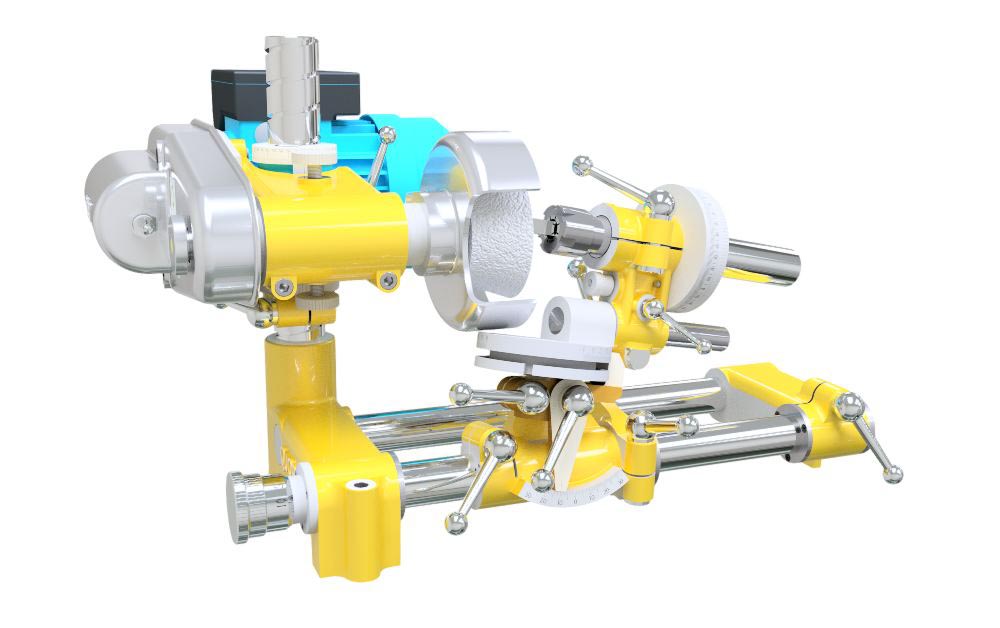 The Quorn Universal Tool & Cutter Grinder will take on pretty much any grinding task in the workshop:
• Lathe Tools are easily ground to precise geometry. Everyday turning becomes hugely enjoyable with strong roughing and keen finishing tools that can be quickly touched-up. Fits and finishes become what you've always dreamed of and now's the time to experiment with tangential tools, high rake edges, chip breakers, crested threads, form tools and V-form parting blades. Perhaps you need a 0.036" groove, a 10 TPI Acme thread, a 0.140" radius, a 65° chamfer, a Ø2.5mm O-ring seat, a perfectly radiused bar end? Tools for these features can't be bought, however they can be made quickly and accurately on the Quorn, with reliefs, rakes and cutting angles adjusted for best results in any material.
• Milling Cutters are a particular forté of the Quorn. Less than 5 minutes work will return the face of an end mill to "better than new" - 5 more minutes and the helical edges can be restored to surgical condition. End mills, dovetail cutters, form (gear) cutters and horizontal milling cutters can all be restored to their razor-sharp beginnings.
Single lip cutters and D-bits can be quickly made for special jobs and the unique Spiralling Head will generate your own helically fluted cutters down to Ø1/16" (Ø1.5mm]. Once you get the taste of it, tapered, ball end and radiused cutters can all be re-sharpened or made from scratch.
Those of us with Milling Machines seldom push our cutters to the limit. Instead, we adopt those tiny, slow "nibbles" - not daring to risk a whole weekend's work waiting for a sharp, new cutter to arrive. And yet, this hesitant approach can't really produce the accuracy and finish that our work deserves. Being able to properly regrind cutters is much more than a matter of economy - it affects the whole way we attack a job!
• Drills can be returned to perfect condition with either backed-off conical or four-facet lips. They can also be modified for counter-boring, spot facing or sheet metal work.

• Hand Tools, not normally considered as grinding candidates, can be made from scratch or rejuvenated with ease. Centre punches, screwdrivers, hacksaw blades, knives, chisels, plane irons, scribers, rotary and keyway broaches, scrapers, taps and even dies are all within the scope of the Quorn.
• Beyond tool and cutter grinding, a number of Jobs can themselves be completed with the Quorn. Small cylindrical parts can be ground, by rotating them against the wheel, to a precision of "tenths" (microns). Hardened valves, bearing surfaces, tapered pins are all straightforward - as are bores and thrust faces. More adventurous users have attached their Quorn Wheelheads to the lathe and mill, allowing them to be used as Tool Post and Surface Grinders!
Quorn - The Legend

Since its launch in 1974, the Quorn has achieved legendary status as the ultimate project for the home workshop. Recognised as the embodiment of great design, the Quorn incorporates so many fine ideas, it is difficult to single one out. Safe to say that, of the 1,500+ units built in the last 45 years, proud constructors include:
John Payne, Arnold Throp ("Dore"), Neil Hemingway, David Lammas, F. W. Walterton, Ron Chernich, D A G Brown, Prof. Jörg Hugel, J Malcolm Wild, David Piddington, David Machin, Roy Amsbury, Ron Jarvis, Geoff Sheppard, M G Satow MBE, George H Thomas (although unfinished...).
Dennis Chaddock (1908-1992), a time-served apprentice, war veteran, Ballistics and IC Engine specialist and Professor of Engineering Design, developed the Quorn as a means-to-an-end, allowing him to create the unavailable shapes and sizes of cutters required for his BRM DOHC V8 engine. It has become a lasting tribute to his prowess as a professional engineer.
Through an agreement with Ivan Law (Model Engineering Services), Hemingway are immensely proud to become the sole authorised supplier of the new Quorn Mk3, a responsibility that we have not taken lightly.
Quorn - The Mk3 Advantage!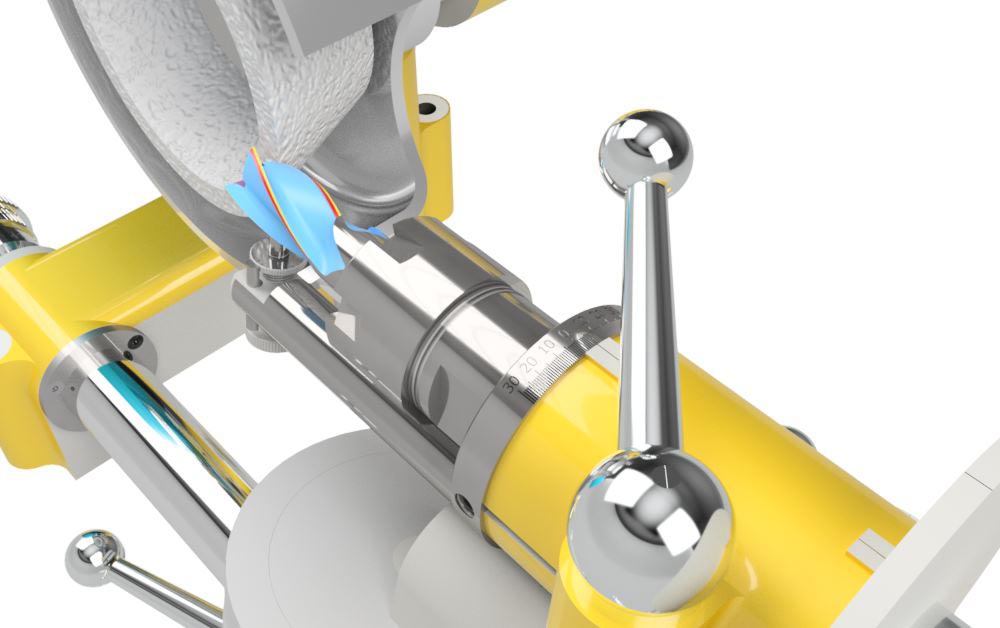 We would dearly like the Quorn to be a continuing success and have listened closely to the experience of constructors and users of Mk1 and Mk2 machines. Much was heard of the complexity of the build and the intricate processes for "setting up" cutters. After many 100's of hours, we have managed to address these concerns:
• In 1974, it was assumed that most folk would not have access to a vertical mill and the construction notes gave complicated set-ups for the lathe. New construction notes supplied with the project now assume that you do have a mill. The often ingenious new set-ups will halve the machining time of the castings whilst improving their prismatic integrity. Other treacherous features, including that unholy circular T-slot, those impossible helical hobs and that brutally awkward tilting bracket have been addressed and need not now be feared.
• Originally, a wide variety of home-made arbors, mandrels and collets were required to retain lathe tools and milling cutters. The Mk3 however, is based on the flexibility of the double tapered ER collet system. Hardened and ground ER extension chucks and collets, readily and cheaply available, are used to retain both cylindrical and rectangular items with great precision.
• The Tool Holder now includes an integral Tooth Rest with a height-adjustable tapered pin. In league with the new Setting Collar, the clearances for end mill "flutes" can be set without charts, calculations or wheelhead height adjustments! The ease and precision simply cannot be matched by the Mk1 or Mk2.
• A new Radius Setting Jig allows accurate radii to be ground on both tools and cutters with the minimum of fuss.
• A new Differential Screw arrangement, acting on the workhead, provides a feed into the wheel graduated in ten thousanths of an inch [0.0001" - 2.5µm], allowing infintessimal amounts of material to be removed from cutter flutes.
• The new drawings and notes include details for both split and double-cotter joints, allowing you the choice for your Quorn.
Frankly, if you've been thinking about building a Quorn for your own workshop - you've done particularly well to wait until now!
Quorn Mk3 - FULL Material KitFrom: £637.35

If you're ready to go, the FULL material kit for the Quorn Mk3 is exactly what it claims. The kit includes ALL necessary items - no "foraging" required!

---

Quorn Mk3 - Drawings, Construction & User Notes£61.25

The Hemingway information package supplied for the Quorn Mk3 is exceptional. If you'd prefer to get familiar with the construction and operation of the Quorn Mk3 before ordering materials, buying this item separately could be a wise first step. Then, when you're ready to proceed, just order the Full Material Kit WITHOUT documentation.