B Hick & Son Ocsillating Engine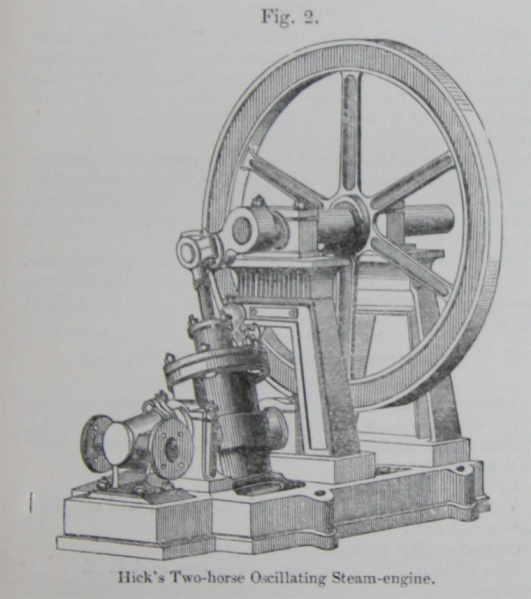 "These are indeed glorious times for the engineers!" James Nasmyth, 11 July 1836
Following a six year apprenticeship as a draughtsman with Fenton & Murray, Benjamin Hicks left to become manager of the Leeds Union Foundry - the largest steam engine works in Lancashire. At this point, in 1810, he was just 20 years old. By 1833, B. Hick & Son opened shop at the Soho Foundry in Bolton, specialising in stationary steam engines for both marine and industrial applications.
On Saturday June 30, 1838, under the heading "Procession in Bolton marking the coronation of Victoria" the Bolton Chronicle reported:
"Mr. Hick's men, of the Soho Foundry, made a most splendid display of flags and banners, upon which were painted representations of various steam engines and machinery. The whole was tasteful and classical in the highest degree. All the workpeople, numbering more than 400, engaged at the Soho Foundry, were liberally regaled by Mr. Hick, with good old English fare, the dinner consisted of roast beef, plumb pudding, and excellent ale. The appearance of the men was most gratifying. Mr. Hick himself presided, and greatly added to the conviviality of the occasion by his gentle manners and agreeable demeanour. The health of the Queen was proposed and drunk with the most clamorous enthusiasm. A band was in attendance, which played during the dinner a number of popular airs, and after the repast, struck up a merry dance. The evening was spent in unalloyed mirth, and concluded in a manner highly satisfactory to both master and men."
This elegant oscillating engine, producing 2nhp, was displayed under steam by Hick, Hargreave & Co at the Great Exhibition in 1851 where it powered a Ryder forging machine. Like all oscillating engines, it is a real joy to watch! Our model is a faithful "foot to inch" scale replica of the original, designed from company archives by Geoffrey King in 1957. This is a small engine which can be produced on virtually any lathe. The bore and stroke measure Ø7/16" x 15/16", the flywheel has a diameter of Ø3½" and the complete model measures 5¾"x 3½" x 5" (LxWxH). With care and patience, this project will yield a delightfully proportioned engine with a captivating action.
The Hick & Son Oscillating Engine in Action